Classical Archaeology
Classical Archaeology at the Saxo Institute studies Greco-Roman material culture from approx. 1,000 BCE to approx. 500 CE. Our research concentrates on Italy, Cyprus, Turkey and Greece from the Late Archaic period to Late Antiquity. We also focus on how the classical world continuously influences and is in dialogue with the contemporary world.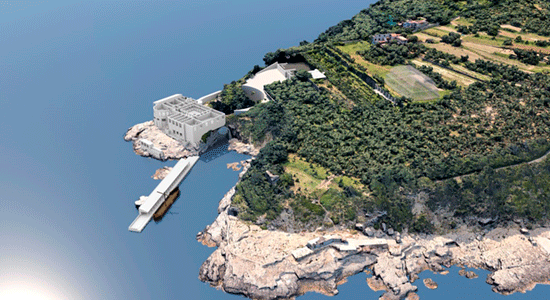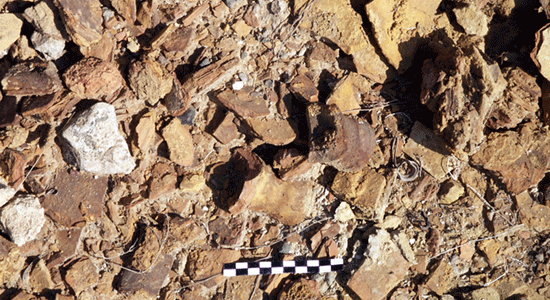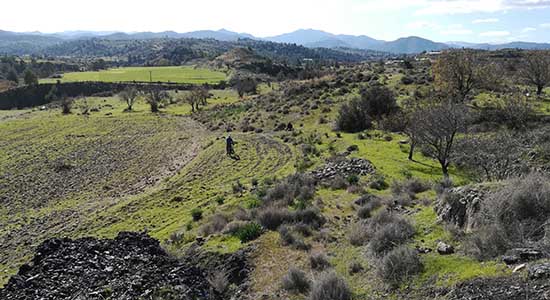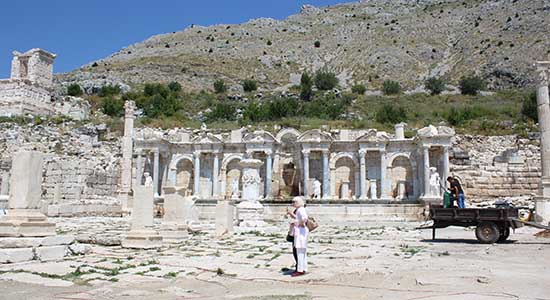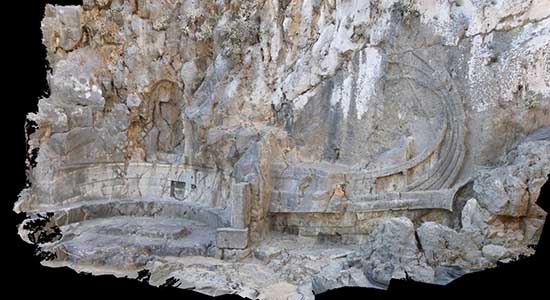 Our researchers represent a wide range of fields and traditions, but specializations include landscape and settlement archaeology, ceramic technology and use, Roman and Greek sculpture, and architecture from different periods. Applying theories of visual culture to Greek and Roman material culture is central to our research and teaching.
Research at the Saxo Institute is firmly rooted in humanities theory focusing on broad issues in humanities. Like other Classical Archaeology units in Denmark and abroad, the discipline at UCPH has evolved from a positivist primarily art historical approach to a cultural historical approach embedding art in social, economic and ritual contexts.
The research is interdisciplinary, based on methods from the humanities and natural sciences and practiced in both individual projects and multidisciplinary, international partnerships involving field work, surveys, excavations and processing of artefacts. Our researchers also collaborate closely with museums in Copenhagen on research and public outreach.
People and environments are inextricably linked, and historical production landscapes are an important part of our cultural and environmental heritage revealing the long-term impact of of human- environment relations. Kristina Winther-Jacobsen is PI on the project Life at the Furnace, which examines the conditions faced by those involved in exploiting natural resources in Cyprus under Roman rule. Changes in vegetation and in patterns of human settlement are used to reconstruct the interaction between the landscape's geological and human history over the past two millennia. The project studies how the choices that supported copper productions affected the landscape and living conditions and their sustainability.
People exist in a symbiotic relationship with everything around them. "Everything" has the potential to inform us about daily life and activities in the past, and landscape archaeology is a constantly evolving field of research. The interaction between theories and methods in the humanities and natural sciences and new technology for visualisation and analysis are continually pushing disciplinary boundaries. Life at the Furnace seeks to develop and integrate theoretical considerations and methods of analysis across traditional boundaries between sciences and faculties.
Ceramics are the most common finds from the Greco-Roman world. A combined analysis of their formal intrinsic properties and their spatial, quantitative, relational (external) properties is used to understand the technology, use and distribution of specific types of ceramics at different locations and in different contexts as well as the underlying mechanisms involved.
For example, Kristina Winther-Jacobsen and Marie-Louise Jahn Hansen, working with master's students, are publishing the ceramics from the Roman Baths in Kition excavated by Dr Giorgos Georgiou, Department of Antiquities, Cyprus, which will help date the different phases of the history of the baths. The material also provides a unique insight into Kition during the Roman period, as the baths provide the first significant evidence of life in Kition at the time.
Marie-Louise Jahn Hansen is studying Hellenistic-Roman pottery from Soli (Cyprus) in the Museum of Mediterranean and Near Eastern Antiquities (Stockholm) in order to understand the role the city played locally, regionally and inter-regionally as a shipping port for copper from the northern Troodos. 
Kristina Winther-Jacobsen has identified two new related types of transport amphorae, one of which is specifically associated with the copper production in north-western Troodos in Cyprus. The new types have been named after the two locations, Skouriotissa and Mavrovouni, where they were first identified as significant. Currently, research is focusing on the distribution pattern and its economic implications.
Roman ideal sculpture, life-size human figures depicting mythological subjects in Greek style were ubiquitous in the Roman Empire. Jane Fejfer is preparing a monograph, The Sensation of the Façade, which investigates the semantics and material properties of the sculptures, their three-dimensionality and life-like appearance, their presence and agency. Particular focus is on the Roman East where the sculptures were usually installed in niches in richly carved architectural facades, which stood conspicuously in public squares and streets. Within the facades, the sculptures often but not always, interacted with the cities' most important, life-giving natural resource, abundance of splashing water, offering beholders sensational experiences. Importantly, the traditional, repetitive form and styles of the sculptures and their specific locally adjusted semantics communicated a sense of belonging.
The facades, together with the public baths, were regarded as the pride and most important ornamenta in the cities in the Roman East, and they often stood and were cared for over more than half a millennium. Their sculptural population was therefore continuously restored, revamped or renewed. Sculptures, taken from other contexts within the city, were moved into the façade, added to the already existing display and given new meaning. By applying the concept of multitemporality and not thinking about time as solely linear but allowing the past and the present to co-exist side by side, these reused sculptures embody not just one single moment of time but their previous lives and biographies as well.
Article:  Just Façade: The relationship between Sculpture and Architecture in the Roman East: Cyprus and Beyond.
In archaeology an assemblage is traditionally defined as static and temporally fixed as "a group of artifacts recurring together at a particular time and place". What happens if we instead understand assemblages as part of a collecting process? The project looks into identifying a concept of collecting that may throw new light on Roman assemblages, invest them with life and agency, regarding them as being part of a process rather than static and fixed. Jane Fejfer collaborates with Marie Curie Fellow Gabriella Cirucci, who works particularly on reuse of Classical period reliefs in Roman Greece in the REFRAME project.
As working hypothesis, Jane Fejfer has tentatively identified the following parameter for identifying assemblages as collections: firstly, collecting is a process in which humans and objects are closely entangled; Secondly, objects otherwise fragmented and isolated are set in motion, selected, disrupted, removed, displaced, brought into a new phase in their life; Thirdly, collecting is a process in which absence, material and immaterial, is as much a part as presence; Fourthly, collecting is an infinite process, which is not fixed and stable, rarely has a clear-cut beginning, and no end, but is continuously on the way of becoming something else; Finally, human intentionality is setting collecting apart from random accumulation and hoarding.
Article: Displacing Artefacts: towards a framework for studying collecting in the ancient Roman world.
Wolfgang Filser's study of Roman maritime villas has resulted from his previous field studies and interest in Roman architecture and its environment outside the urban space. Late Republican and Hellenistic sanctuaries contain the conceptual and thematic antecedents of the sculptural and architectural design of the villa maritima. This overall design also encompasses the supposed contrast between rugged coastal landscape and cultivated villascape, which is resolved by the architects and their clients at great expense. By means of a complete digital recording of all traces of human intervention in the natural environment above and below water, our project has been attempting to uncover and reconstruct the entirety of a maritime villa on the Cape of Sorrento through regular field campaigns since 2014. Excavations, remote sensing and surveys of the coast provide the data basis for the hypothetical reconstructions of the appearance of the Cape of Sorrento with the huge terraces on the slopes above the sea and the maritime quarter with the Roman harbor system in a natural bay.
Wolfgang Filser is currently working on a monograph with focus on the relationship between nature, art and architecture in the Hellenistic-Roman period, from the fourth century BC until the second century AD. Late classical cult caves and early Hellenistic artificial grottos with their figural apparatus emerge as places of origin of an art field in which rough rocks, concretions and water were combined with sculpture and architecture. Genuine natural elements, fake nature and abstracted natural forms play side by side. How is art's imitation of nature - its mimetic status - redefined in each artwork by the way it relates to its environment: rock, water, and fauna? And what happens to the concept of mimesis when nature itself takes over the agency and becomes the artifex?
Photography and archaeology have had a sibling relationship from the beginning. How have photographic techniques impacted archaeology from the 19th century to the present? How has archaeological thinking been influenced by photography and how do the latest photographic imaging techniques still affect the way archaeologists and archaeology students deal with Roman and Greek material culture? A critical awareness of these and related problems and their integration into teaching is indispensable for an image-based discipline like archaeology. Wolfgang Filser's research interests are complemented by his collaboration with contemporary photographers (Eleanor Antin, Amin El-Dib, Hans Georg Esch) and the critical evaluation of those artists' works on Greek or Roman antiquity.
Collective projects and networks
UCPH School of Archaeology
UCPH School of Archaeology is a cross-faculty initiative that brings together the rich diversity of expertise in the field of archaeology found at the University of Copenhagen in unique and innovative ways.