Prehistoric Archaeology
Historically, archaeology in Denmark has been firmly grounded in the humanities, and at Prehistoric Archaeology, we continue to address how contemporary society rests on and confronts its pasts. We invite a host of theoretical and methodical perspectives in this endeavour, including history, aesthetics, the natural sciences, and experimental approaches.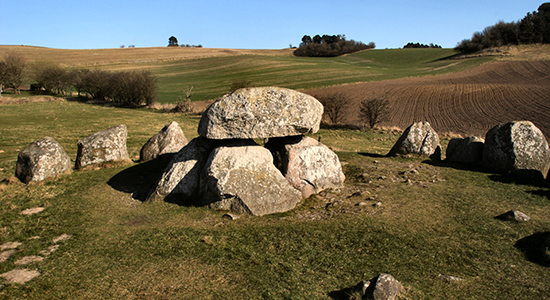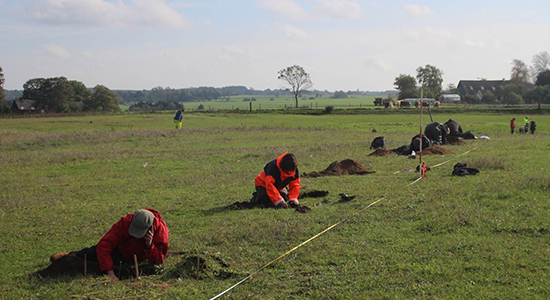 Research relations
At Prehistoric Archaeology – regardless of the perhaps antiquated name – we explore societies from the earliest times to the present day. The common denominator is the material ground of its source material, focusing on the traces of the past whether in the form of humans, things, or natural phenomena, whether tangible or negative traces. Given the extreme range of questions emerging from this temporal, and conceptual reach, archaeology has an unusual number of links with other disciplines, and our researchers at Prehistoric Archaeology also participate in or lead projects with a wide variety of scholars from other fields and traditions. Included amongst these collaborative efforts are our many associations with museums in Denmark, generating cross-fertilising dynamics between the research-driven and the developer-led practices characterising Danish archaeology.
Research focus
Researchers at Prehistoric Archaeology address a wide range of themes and challenges, typically centred on field projects, laboratory studies, archival research, and experimental methods. While enjoying a collegial and mutually supportive atmosphere, we also work within different traditions and sometimes dissimilar objectives. This makes for an always dynamic and vibrant research environment, welcoming diversity, new initiatives and experiments. Specialisations and interests are thus far-reaching, from the Arctic to Africa, from the Ice Age to the present day, and research topics span from studies of technology and learning processes, visual culture and imagery, migrations and archaeo-linguistics, environment and ecologies to the development of methods and theoretical concerns in their own right.
Research and education
Our students are regularly involved in research projects either individually or by teachers including their research in classes. Research projects obviously lend themselves for this potential, but our focus on field methods as a research topic and the experimental efforts at Prehistoric Archaeology are frequently included in our education, too. We take a pride in acknowledging how our students influence the ways in which we phrase research questions and question consensual knowledge. Thus, research is never static, which is also thanks to our excellent students.
UCPH School of Archaeology
UCPH School of Archaeology is a cross-faculty initiative that brings together the rich diversity of expertise in the field of archaeology found at the University of Copenhagen in unique and innovative ways.
Researchers and lecturers
| Name | Title | Phone | E-mail |
| --- | --- | --- | --- |
| Andersson Strand, Eva Birgitta | Professor | +4535325807 | E-mail |
| Becker, Valeska Doris | Postdoc | +4535329746 | E-mail |
| Bjørnevad-Ahlqvist, Mathias Paul | Postdoc |   | E-mail |
| Bristow, Rebecca | PhD Fellow | +4535329607 | E-mail |
| Foss, Pernille | Teaching Associate Professor | +4551298816 | E-mail |
| Holst, Sandie | PhD Student | +4560462121 | E-mail |
| Iversen, Rune | Associate Professor | +4593509427 | E-mail |
| Jensen, Stefanie Langaa | Enrolled PhD Student | +4535330243 | E-mail |
| Jæger, Jonas Holm | PhD Fellow | +4535329304 | E-mail |
| Lyngstrøm, Henriette Syrach | Associate Professor | +4551298830 | E-mail |
| Rindel, Per Ole | Associate Professor | +4551298769 | E-mail |
| Sørensen, Mikkel | Associate Professor | +4551298848 | E-mail |
| Sørensen, Tim Flohr | Associate Professor | +4551299719 | E-mail |
| Yvanez, Elsa | Associate Professor |   | E-mail |