Prehistoric Archaeology
Archaeology has one foot in the humanities, including history in the broadest sense, and one in the natural sciences. It deals with the development of human culture and society all over the world, from the earliest times to the present day.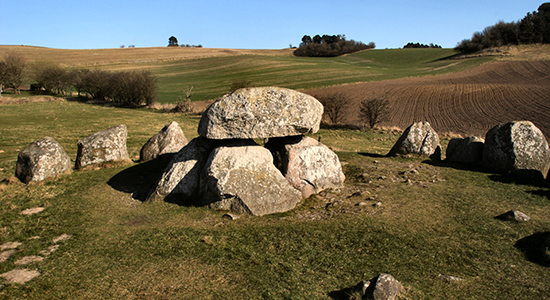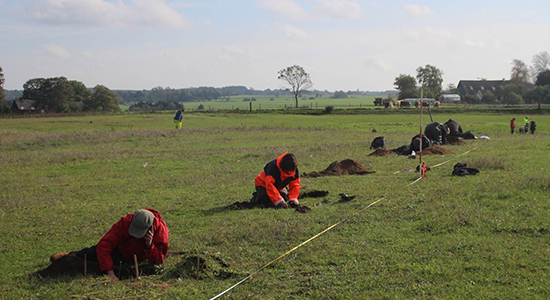 However, the evolution of human societies and cultures is also rooted in a larger, material world defined primarily by the geosciences and biosciences, but also by physics, astronomy, etc. As a result, archaeology has an unusual number of links with other disciplines, and is studied at different institutions and faculties, e.g. it is often part of social anthropology in the USA but the natural sciences in some other countries, such as the Netherlands.
Archaeology employs a wide variety of highly-developed scientific methods, often based on natural science and involving technological solutions, in order to unearth, date, process and interpret data. When studying the prehistoric era, one method used to interpret the findings is to look at analogies and insights from the social sciences. Where they exist, written sources – the preferred source data of the humanities – also play an important role, both as supplementary material and (mainly for later periods) as tangible sources of enlightenment and illumination.
Archaeology can be subdivided into a number of academic traditions: Danish (or Nordic), European, African, Arctic archaeology, etc. Or categories that cover specific periods or geographic areas, e.g. classical archaeology or Near Eastern archaeology.[CT1]  Not to mention the many subject-specific categories such as marine archaeology, experimental archaeology, ethnoarchaeology, zooarchaeology, astro-archaeology, etc.
Prehistoric archaeology (originally a patronising term used by "written-source historians") describes periods from which no written sources are available, as well as a more general method and system of interpretation based on the natural sciences that can be applied anywhere on the planet and to cultural relics from all periods of history. The broad span of time covered by archaeology also means that very diverse methods may be employed in the same region, e.g. research into Stone Age hunter-gatherers in Denmark requires a different approach to studies of the Viking era.
Archaeological source material often consists of hand-made objects, the results of production processes that required specific knowledge of materials and how to process them, as well as particular physical and motor skills. These archaeological objects' quality and uniformity of design illustrate how production processes spread and evolved over the millennia. The core of studies of material culture is, therefore, looking at how technologies are passed between generations.
Technology and Learning Processes in the Past studies the specific knowledge and skills used to produce archaeological objects. Knowledge of prehistoric technologies derived from archaeology is used to define cultures and gives rise to multiple academic problems. For example, analysing production processes can help identify individuals, e.g. children, apprentices and master craftsmen, due to their different levels of knowledge and motor skills as well as spatial characteristics (central or peripheral to the process). The same knowledge can also be used to study a society's economy and organisation by analysing the time and materials used in a particular work process, e.g. building a Viking ship and/or making sails for it. It can also be used to analyse cultural identity and mobility in the past by focusing on changes and innovation over periods of time and geographical areas. What are the links between the spread of knowledge of these processes and greater mobility and Neolithisation in Northern Europe? Did Iron Age smiths travel and then return to Denmark with knowledge of new materials and processes?
In terms of theory and methodology, the interaction between archaeology, anthropology and sociology defines research into technology and learning processes. Communities of Practice (Wenger 1998) sets out a model for studies of social organisations in learning situations. Chaîne opératoire methodology (Leroi-Gourhan 1993) consists of an analytical, step-by-step reconstruction of actual production processes. These so-called operational diagrams, based on the archaeological material (Pelegrin 1990), allow manual concepts to be defined in ways that are specific to particular cultures. Experimental archaeology (Rasmussen 2001) uses practical experiments to study prehistoric processes, which increases our knowledge of both materials and the use and production of prehistoric tools.
The study of bogs and marshes is a priority for Archaeology at the Saxo Institute.
Wetlands have huge research potential, and Denmark has a long and internationally recognised tradition of archaeological research in bogs and marshes. Wetlands preserve objects and provide ideal conditions for finding them. The Maglemose culture, bog bodies, the weapon offerings and the Viking ships from Roskilde Fjord have all attained iconic status and Denmark has been at the forefront of developing methodology in bog geology, excavation techniques, surveying and preservation.
Throughout prehistory, lakes, bogs and marshes constituted barriers to travel and communication. However, they were also resource-rich areas with high levels of human activity, which has made them the subject of dedicated studies at the Saxo Institute. 
During the Mesolithic period, wetlands served as settlement areas, larders and transport routes. In the Neolithic, Bronze Age and Iron Age, they were the scene of numerous sacrificial events. They were also important areas for resources, such as iron ore, peat, alder and willow, as well as a vital source of water, used in cooking, farming, laundry or for processing flax. Some marshes have also been used for actual settlements, either directly on the wetlands or on islets. The Maglemose huts at Ulkestrup Lyng, the Muldbjerg settlement in Åmosen and the fortified settlements of Borremose and Lyngsmose are prime examples of this phenomenon. How are we to understand these settlements? Were they used for long-term or short-term stays? Why did people choose to stay or even live in a bog? Perhaps these places had a special function and meaning. Perhaps that meaning also extends to the nearby roads and waterways.
Within this priority area, the Archaeology section will focus on the Neolithic period, with later prehistory functioning as an interpretative frame of reference. It aims to develop research, training and methodology that transcends academic disciplines and to use new analytical methods to investigate previously excavated finds. Specialists from the section will also run international field courses.
The focus will be on two sites: Tibirke in North Zealand and Bøgeholm on the island of Bornholm, where conditions are unique for the preservation of organic material. The hope is that any finds made here may help clarify the function of the settlements and generate important new knowledge of early European peasant society. Tibirke is a Middle-Neolithic complex consisting of a stone path that leads to a low islet in the bog. Large amounts of settlement material have been found here, along with pre-Roman Iron Age stone-lined ford and a row of stepping stones. These finds appear to be evidence of a settlement. Bøgeholm is another Middle-Neolithic settlement on an islet in the now partly drained Vallensgård Marsh at the centre of Bornholm. It is sited at the foot of Ekkodalen, the dramatic scenery of which may have contributed to the choice of site.
Affiliated centres, collective projects and networks
Researchers and lecturers