Tod Waight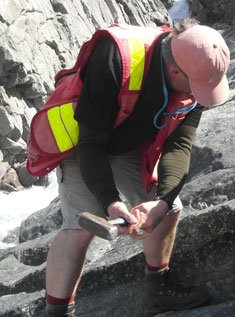 Professor in geochemistry, mineralogy and petrology; Deputy Head of Department for teaching, Department of Geoscience and Natural Resource Management, Copenhagen University 
Short biography 
Tod has a Ph.D. in geology from the University of Canterbury (Christchurch, New Zealand) and worked in Australia and the USA before landing in Denmark. He is an igneous petrologist and geochemist and has carried out research on for example the granites on Bornholm, andesitic volcanoes from New Zealand, and flood basalts from Greenland and Iceland. His research focuses on the application of geochemistry and especially radiogenic isotope systematics to understanding magma genesis. Much of this work involves Sr isotopes, and has included using small-scale variations in Sr isotope compositions in zoned feldspar crystals as a means of tracking changes in magma compositions and magma chamber processes during crystallisation. He has also worked with archaeological materials, primarily using Pb isotope compositions as a means of tracing the origin of silver and copper in archaeological artefacts. 
The most relevant publications: 
Waight, T.E., Tørnqvist. J.B. (2018) Sr isotope zoning in plagioclase from andesites at Cabo De Gata, Spain: evidence for shallow and deep contamination. Lithos 308-309, 159-167.
Gagnevin, D., Waight, T.E., Daly, J.S., Poli, G., Conticelli, S. (2007) Chemical and isotopic zonation in plagioclase phenocrysts from the Capraia Volcano (Italy): record of a protracted recharge history. Journal of Volcanology and Geothermal Research 168, 28-54.
Chadwick, J.P, Troll, V.R., Ginibre, C., Morgan, D., Gertisser, R., Waight, T.E., Davidson, J.P. (2007) Carbonate assimilation at Merapi volcano, Java Indonesia: insights from crystal isotope stratigraphy. Journal of Petrology. 48, 1793-1812
Baker, J.A., Stos, S., Waight, T.E. (2006) Rapid lead isotope analysis of archaeological metals by multiple-collector inductively coupled plasma mass spectrometry. Archaeometry 48, 45-56.
Nielsen, S., Andersen, J.H., Baker, J.A., Christensen, C., Glastrup, J., Grootes, P.M., Hüls, M., Jouttijärvi, A., Larsen, E.B., Madsen, H.B., Müller, K., Nadeau, M.J., Röhrs, S., Stege, H., Stos, Z.A., Waight, T.E. (2005) The Gundestrup Cauldron: New scientific and technical investigations. Acta Archaeologica 76, 1-58.
Waight, T.E., Baker, J.A., Peate, D.W. (2002) Sr isotope ratio measurements by double focusing MC-ICPMS: techniques, observations and pitfalls. International Journal of Mass Spectrometry 221: 229-244
Waight, T.E., Maas, R. and Nicholls, I.A. (2000) Fingerprinting feldspar phenocrysts using crystal isotopic composition stratigraphy: Implications for crystal transfer and magma mingling in S-type granites. Contributions to Mineralogy and Petrology 139: 227-239.