Autonomy and Expertise in International Administrations, 1940s-1970s
This project investigates how the administrations of key international organizations (IOs) gained their powers between the 1940s and the 1970s.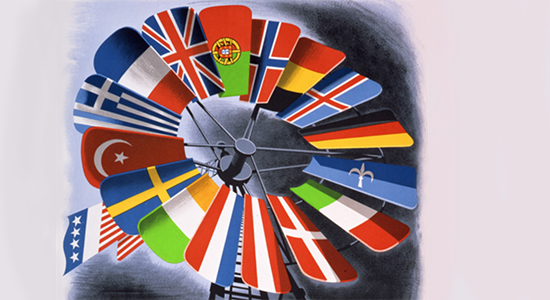 The project investigates the administrations of three IOs that were central to the postwar creation of a western-led global order: The Organisation for European Economic Co-operation (OEEC)/The Organisation for Economic Co-operation and Development (OECD); The European Coal and Steel Community (ECSC) and the European Community (EC), and; The North Atlantic Treaty Organization (NATO).
Adopting a methodology that explores autonomy and expertise as co-constitutive elements in creating administrative powers, the project has three focus areas:
A comparison of how and to what extent the three administrations gained autonomy from state power.
A mapping of expertise cultivated by the administrations.
An identification of how autonomy and expertise combined across IOs to create distinct bureaucratic roles enabling specific administrative powers.
 
The project's fundamental research question is:
How and to what extent did historically accumulated autonomy and expertise empower international administrations to influence global governance?
We hypothesize that specific blends of autonomy and expertise helped produce enduring bureaucratic roles within key IOs. And, that these roles enabled distinct types of policy influence that are emblematic for the kinds of administrative power that emerged across IOs in the first three decades following the Second World War.
WORK PACKAGE 1
WP 1 will compare three elements across the three IOs:
the formal institutional set-up and division of labour of the administration
the ability of the administrative leadership to compose its staff, define its formal regulations, and determine the priorities in its budget
the external pressures typically from governments that constrained and altered the administrations. This to determine their formal capacity to act autonomously.
WORK PACKAGE 2
WP2 will build a database of higher personnel to trace patterns in education, professional trajectories and links to external institutions or networks, in order to find particular nodes of influence. This to locate prevalent kinds of expertise that effected the IOs' ability to influence policy.
WORK PACKAGE 3
WP3 will create a typology of professionals to determine how distinctive and pervasive bureaucratic roles reflected specific kinds of administrative power, distinct to or running across IOs.
Funding
DFF–Research project 1 (thematic) 
Project period: 1 January 2022 - 30 June 2025