18 September 2014
New book: "Military Intervention and a Crisis of Democracy in Turkey: The Menderes Era and its Demise"
Book written by Mogens Pelt, Saxo Institute, I.B. Tauris, 2014.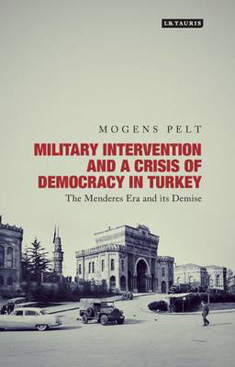 Menderes and the Turkish army coup in 1960
Adnan Menderes' election to power in 1950 signaled a new epoch in the history of modern Turkey. For the first time a democratic government ruled the country, taking over from Kemal Ataturk's political heirs, the People's Republican Party (CHP), and challenging the Kemalist elite's monopoly on the control of state institutions and society itself. However, this period was short-lived. In 1960, Turkey's army staged a coup d'etat and Menderes was hanged the following year.

On behalf of Ataturk
In this book Mogens Pelt examines the era of the rule of the Democratic Party, and what led to its downfall. Among the chief accusations raised against Menderes by the army was that he had undermined the principles of the founder of modern Turkey, Ataturk, and that he had exploited religion for political purposes.

Strengthening the position of the military
Military Intervention and a Crisis of Democracy in Turkey furthermore, and crucially, explores the legacy of the military intervention that brought this era of democratic rule to an end. Although the armed forces officially returned power to the civilians in 1961, this intervention - indeed, this crisis of democracy - allowed the military to become a major player in Turkey's political process, weakening the role of elected politicians.

Protectors of Kemailism
The officer corps claimed that the army was the legal guardian of Kemalism, and that it had the right and duty to intervene again, if the circumstances proscribed it and when it deemed that the values of Ataturk were threatened. Indeed, these were precisely the ground on which the armed forces justified its coup d'etats of 1971 and 1980.

This unique exploration of the Menderes period sheds new light on the shaping of post-war Turkey and will be vital for those researching the Turkish Republic, and the influence of the military in its destiny.

Purchase the book at the website of the publisher (ibtauris.com).

Review in Turkish newspaper
- Overall, Pelt's book is a worthwhile read with obvious pertinence in today's Turkey, where echoes of the 1950s still resound. Looking back at the era of Menderes and the DP from a cold distance, you also recognize the familiar difficultly of choosing sides when almost everyone involved is critically wrong or in some way compromised. Williiam Armstrong in the English written Turkish newspaper Hürriyet Daily News.
Read the entire review Turkey's 1960 coup, still resounding today at hurriyetdailynews.com.